Home
Call for papers
Programme
Important deadlines
Authors instructions
Keynote speakers
Technical exhibition
IPIN grant programme
Registration
Programme committee
Local organizing committee
Tourism info
Conference venue
Travel info
Accommodation
Bid for IPIN'2012
Contact
Photos
Best paper & poster
Other IPIN conferences
IPIN'2010
IPIN'2012
IPIN'2013
IPIN'2014
Call for Papers


Collaborative Positioning and Navigation


Join the international community on Indoor Positioning and Navigation.

The IPIN International Conference, first organized by ETH Zurich in 2010, showed to be the forum of excellence to join researchers, system developers, and service providers in the area of indoor positioning and navigation. With hundreds of participants, both from academia and industry, it was proved that there is a large and very active community working in indoor positioning and navigation worldwide.

The IPIN 2011 International Conference builds on the success of the previous year conference, and aims to consolidate IPIN as the worldwide reference in this area. Indoor positioning and navigation is clearly a multidisciplinary area of research, integrating electronics, computer science, communications, geographic information systems, and ... people. Recognizing the role of users in the architecture and functioning of many positioning systems, this year's conference is dedicated to Collaborative Positioning and Navigation.


The conference encourages the submission of contributions in one of the following topics:

User Requirements

Requirements for high precision applications
Requirements for the mass market
General user requirements for localization

Hybrid IMU Pedestrian Navigation & Foot Mounted Navigation

Systems integrating Inertial Measurement Units (IMU)
Hybrid technologies
Multi sensor systems integrating Inertial Measurement Units (IMU)
Hybrid sensor fusion
Pedestrian navigation & tracking
Systems using inertial sensors
Systems using zero-velocity updates
Step length estimation

High Sensitive GNSS, GNSS Indoor, Pseudolites

HS (High Sensitive) GNSS (Global Navigation Satellite Systems)
Acquisition of weak GNSS signals
GNSS in indoor environments
Multipath modeling
Pseudolite indoor localization
GNSS repeaters

Signal Strength Based Methods, Fingerprinting

Localization based on WLAN (Wireless Local Area Networks, IEEE 802.11 standard)
Indoor localization based on ZigBee, FM radio and other RF signals
RSS (Received Signal Strength) based methods
Fingerprinting

UWB (Ultra Wide Band)

UWB (Ultra Wide Band) based position determination
UWB TOA (Time Of Arrival) & Fingerprinting
Applications of UWB

Passive & Active RFID

Use of RFID (Radio Frequency IDentification) tags
RFID localization
RFID waypoint guidance
RFID positioning algorithms
RFID applications

Optical Systems

Camera based positioning
View based navigation
Camera egomotion estimation

Ultra Sound Systems

Localization methods based on ultrasound
Ultrasonic wave propagation and distance estimation
Ultra sound sensor networks theory and applications

TOF, TDOA based Localization

Localization based on TOF (Time Of Flight) distances
Localization based on TDOA (Time Difference Of Arrival)
Position estimation and algorithms

Localisation, Algorithms for WSN

Network localization
Cooperative location algorithms
Localization in WSN (Wireless Sensor Networks)

Frameworks for Hybrid Positioning

Heterogeneous sensor fusion
Integration platforms
Combination of indoor and outdoor positioning

Applications of Location Awareness & Context Detection

Applications in museums and in health care
Applications in landmine detection and radiation measurements
Location awareness for smart industry
Context aware applications
Provision of context information
Situation aware tracking algorithms

Industrial Metrology & Geodetic Systems, iGPS

High precision positioning technologies
Total stations, laser trackers
Development of iGPS, an indoor tracking system developed by Nikon

Radar Systems

Localization based on radar
FMCW (Frequency Modulated Continuous Wave) systems
FMCW based algorithms

Mapping, SLAM

SLAM (Simultaneous Localization And Mapping)
UWB SLAM
Laserscaning

Magnetic Localization

Systems using electromagnetic fields
Systems using coil based magnetic fields
Systems using permanent magnetic fields

Innovative Systems

Systems based on sounds
Systems based on fluorescent light
Systems for mobile phones

Other novel ideas
We invite you to submit your work in one of the following formats: short paper (up to 4 pages), poster (up to 2 pages), or demonstration. Accepted short papers and posters will be included in the conference proceedings (electronic publication with ISBN).
Upon review by the Program Committee, all the authors of the accepted short papers will be able to submit a full paper (up to 10 pages) before the conference. Accepted full papers will be included in the conference proceedings and will be published electronically in the IEEE Xplore database.



Journal of Location-Based Services: Special Issue on Indoor Positioning and Navigation

.
The authors of the best papers accepted for presentation at IPIN 2011 will be invited to submit an extended version of their work to be published in the Journal of Location-Based Services. These papers will be reviewed by the journal's editorial team, and accepted manuscripts will be published in the Special Issue.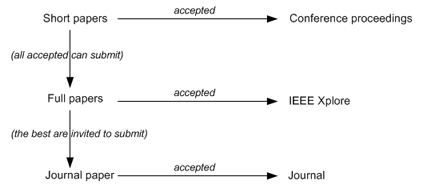 Important Dates
Short Paper Submission:

30 March 2011

7 April 2011

Notification Of Acceptance: 10 May 2011


Poster And Demo Submission:

16 May 2011

Notification Of Acceptance: 24 June 2011


Full Paper Submission:

17 June 2011

17 June 2011

Notification Of Acceptance: 20 July 2011


Author's instructions
Templates and instructions for authors are available here.


Call for Papers





Organized by







in Partnership with









Supporters